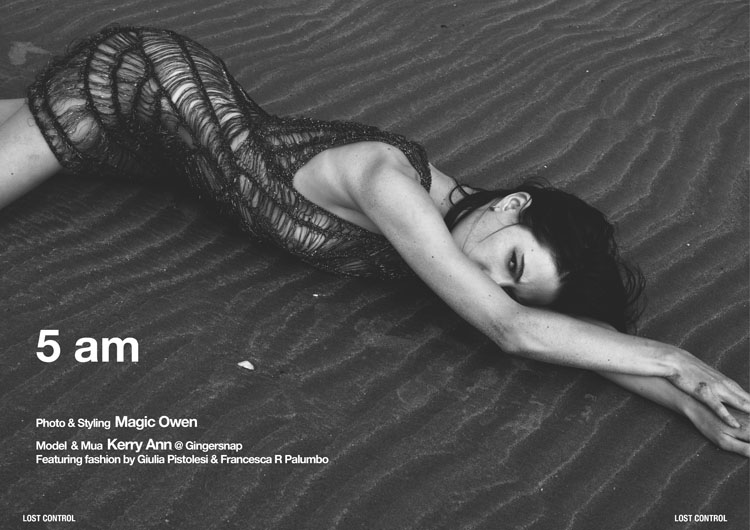 New Editorial for Lost Control Magazine (part of the Forest Mag)
It is not very often that we have a proper summer in the UK so as it has been sunny for a few months I had to make time to shoot some editorials at the seaside. And for that I needed a model that I trust to share my vision effortlessly. That had to be Kerry Ann! She is one of my favourite models to shoot with. Getting up at 5am was not fun lol but the images are worth it! We needed to have the beach to ourselves to shoot this set and we did! It was just the 2 of us and the sea.
For this editorial I wanted to give it a very fluid organic feel and not use "clothes" as such. I wanted a shipped wrecked feel to the images so I had to think out of the box and source the perfect garments to make my vision come to life. The first person I thought of is Giulia Pistolesi who is a designer from Italy. I have been following her work for a while but never had a project that would suit her designs. Giulia calls her creations "ornamenti per il corpo" (body ornament). When you look closely you can see the different fabrics and beads intertwined creating a perfect harmony. Her designs are truly beautiful! Creations like hers are not easy to find so when I was looking for a second designer with a similar vibe I contacted Francesca R Palumbo through her PR agent Hundred Showroom . Francesca specialises in knitwear, she creates very detailed pieces that follow the natural form of the female body which is exactly what I was after.
Finding designers is a job on its own…which is usually why I tend to work with stylists….I dedicate part of my day looking at fashion, looking at new designers. So even though there wasn't really any planning in this shoot (no hair or makeup) it wouldn't have been as successful without the work put in researching fashion.
Now a bit about the images….there is no photoshop, just some colour toning in Lightroom. The only thing I packed and used is my Olympus OMD EM1 Mark II. It is well equipped to deal with the elements so I wasn't worried about sand getting in the way or getting splashed!